The Present and Future of Nissan's Electric Vehicles

What Electric Vehicles Does Nissan Have Planned?
It's been made clear by automakers around the globe that electric mobility is the future of automotive. Nissan will be no different. In fact, Nissan could be considered a pioneer of the electric vehicle market.
In 2010, the brand introduced the Nissan LEAF to Japan and the United States. It went on to have a fantastically successful first generation that lasted into 2017, being named the World Car of the Year in 2011. Now, 13 years later, the Leaf hasn't gone anywhere, as it entered its second generation at the end of 2017 with more style and range than ever before.
While some automakers may have looked at electric cars as only a dream, Nissan was busy paving the way for an electric future with the Nissan Leaf. So, it is fair to assume that as electric vehicle tech and popularity have developed in recent years, that Nissan has a lot planned for future electric vehicles. That assumption would be correct.
Nissan's Future Electric Plans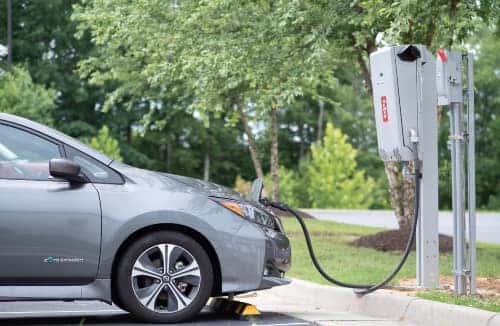 It all starts with what is happening overseas, where Nissan's chief operating officer stated that the brand had a goal to have seven electrified vehicles by 2026. Nissan's COO also committed to having 80% of the Nissan lineup be electrified by 2030. The only caveat is that this was specifically in reference to the Chinese market, not necessarily here in the United States.
Even so, we expect to see some of the electric vehicle tech overseas get carried over to the U.S. market in the future as well. Of course, Nissan has already shown its commitment to electric mobility in the U.S. market with the refresh of the Nissan LEAF for 2023, which includes a new exterior design that features an even more stylish front fascia.
[Read more: What's New for the 2023 Nissan LEAF]
There has also been the release of the Nissan Ariya. For those who need an electric vehicle that is bigger than the LEAF, the Ariya is sure to fit the bill. It's Nissan's first all-electric crossover and offers some exciting capabilities and features. We're talking about a range of up to 304 miles and a torque output of up to 442 lb-ft. It even has an available AWD system.
[Read more: Nissan Ariya Powertrain Options and Technical Specs]
For now, Nissan likely wants to let the Ariya have its well-deserved moment of glory, as we haven't heard much official news on what other electric vehicles might be coming to the Nissan lineup. Rest assured, however, that more will certainly be learned over the next few years, and we'll be sure to keep you updated on all the latest developments here on the Nissan of Auburn website blog.