New EV Charging Solutions Are On the Horizon

Could Liverpool's Light Post Car Chargers Work in the US?
Electric cars are becoming increasingly popular, and many automotive brands are now going all-in on this eco-friendly mobility tech. It is certainly easier than ever to drive an electric car these days, but one thing that has kept some drivers from buying one is the availability of charging stations.
While we recommend installing a home charging station in your garage that you can use to charge your vehicle overnight, we realize that some individuals in more rural areas may not have easy access to car charging stations for public use.
That said, availability is getting better all the time. But one interesting solution that is being tested in Liverpool, UK may provide a way for even more remote areas to offer charging points.
Lamp Post Car Chargers Explained
The solution is to incorporate car charging capabilities into the light posts that line the streets. After all, even streets in some of the most rural areas will have light posts along the route.
Ubitricity is the company that is putting this idea to the test by adding 300 EV charging points to lamp posts throughout Liverpool. The chargers being tested require just two hours to install and charge at speeds of 5kW. In the UK, this technology is an interesting solution for northern city dwellers who may not have a home garage and may rely on public charger stations for their EV.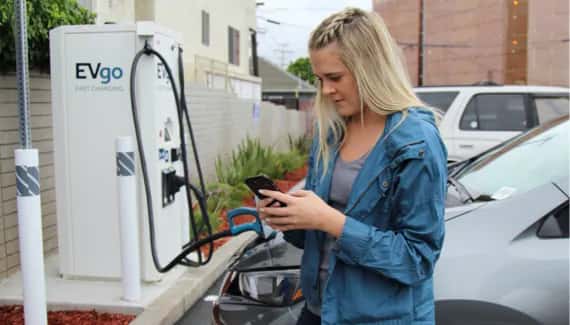 While individuals in a similar situation here in the US could likely benefit from this, there is also huge potential for more rural areas as well. This could benefit not only EV drivers but also those who are on road trips in unfamiliar areas.
As of now, this kind of solution has yet to be tried in the United States. While some public charging stations are available in apartment complex garages, we have yet to see a solution that offers a more curbside approach to EV charging.
[Read more: Nissan Leaf EV may be small but it packs a punch]
Still, it's a solution that seems like it could have benefits. Either way, as EV charging becomes more and more plentiful, it makes electric vehicles a better and better buy. To learn more about the EV models available here at Nissan of Auburn, just give us a call.