Rairdon Gets 1200 Backpacks, but What did They Do With Them
Rairdon Gets 1200 Backpacks, but What did They Do With Them
Back to school and giving back make the perfect pair! That's why the Rairdon Auto Group recently gifted 1200 backpacks to local, Seattle-area kids.
When Rairdon & Hopelink Team Up, Seattle Kids Win
No student should go back to school unprepared!
This was Rairdon's mantra as they stuffed the 1200 backpacks that had just been placed on their doorstep with school supplies.
Inside went go-to items like scissors, pens, glue, crayons, and rulers.

"Hopelink was shining like a brilliant beacon" 
With the team's heavy lifting complete, they headed for Hopelink's
drop-off center located in Kirkland.
*The team swears that Hopelink was shining like a brilliant beacon
as they made their approach from the street*.
Heading to Hopelink in Kirkland
With plenty of smiles, Rairdon got behind the wheel of 4 Dodge SUVs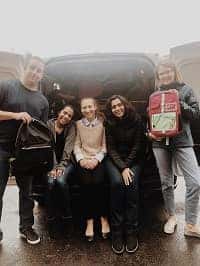 and a Ram ProMaster
(as they operate four Dodge-Ram dealerships, what else would you expect?!)
Their meet-up with Hopelink's volunteers proved fruitful.
After a spirited transfer, the precious cargo was one step closer
to being in the hands of our underserved students.
Why the partnership between Hopelink and Rairdon?
Well, it's all about taking care of home.
As both organizations strive for the betterment of their local Seattle community,
their joining forces made perfect sense.
Hopelink Quick Facts
Hopelink provides the Seattle area's underserved population with a wide variety of services. These include housing, food assistance, financial services, and adult education.
The organization has distributed $3,367,432 in energy assistance.
2,230,884 total meals provided.
To date, 137 total families have received housing assistance from Hopelink.
45% of Hopelink families have increased their family income by at least 30%.
More About Rairdon's Culture of Care
The Rairdon Auto Group believes that people don't care about how much you know until they know how much you care
That's why they created Rairdon's Culture of Care.
This platform manifests itself through community involvement/ philanthropy, a limited lifetime warranty on most all vehicles, and stellar customer service.
Follow the Rairdon Auto Group on social media to see where their Culture of Care platform will take them next!
(They love suggestions, so keep them coming).