Kenya and Scarlett's (Absolutely Fabulous) Vegas Road Trip

Kenya and Scarlett's (Absolutely Fabulous) Vegas Road Trip
Best road trips in the U.S. anyone? Here's what Kenya and Scarlett discovered when they went from Denver to Vegas.
Leaving the Grind Behind
It's late July in Denver and my best friend Scarlett and I are looking for a break from the grind. The monotony of our corporate jobs (we also work together) has us longing for Vegas, which in turn leads to FOMO. The pool parties, the nightlife, it all has to be at its most on fleek right now.
So I make my way over to Scarlett's office and take a peek inside.
She immediately meets my gaze.
"Did you see my text?" I ask.
"Not yet," she answers reaching for her phone.
"Ohhhh," she gushes as she takes in photos of Costa Di Mare restaurant at the Wynn.
By the end of the day we've put in for—and been granted—vacation time for a girls-only road trip.
And there's no question where we're heading.
Vegas Bound
After packing an oversized bag and grabbing some necessary accessories, I jump in the car and head to Scarlett's condo.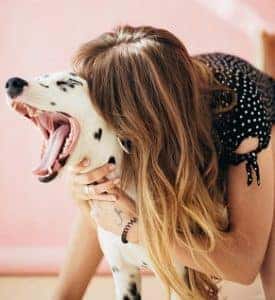 Once inside, it's a quick kiss for Max, her Dalmatian (Scarlett's landlady is going to be taking care of him while we're gone).
As city turns to desert, we excitedly affirm our decision to leave the weekly grind behind.
It turns out that, by taking action back at the office, we didn't even have to wait 'til Friday to start the fun =)
"You know, I've Never Seen the Great Salt Lake"
We're making good time, while also enjoying the scenery outside our window.
Somehow, we've gotten onto a conversation about the different types of clouds.
As we do, Scarlett opens up Google Maps.
"You know I've never seen the Great Salt Lake" she says.
So we make an extra stop in an excited flash of inspiration.
But back to our #Vegasthrills
We pull onto the strip as the sun is waning and the nightlife is heating up.
Our next three days are a nonstop stream of fun.
Our Vegas thrills include photo ops by the Bellagio fountains, spa days, shopping, a to-die-for dinner at the Wynn, and so much more.
*Vegas was nourishing for our minds, tummies, and friendship.*
And, in all of the excitement, I got to thinking about where the two of us will be traveling to next!
Best Road Trips For Women
The Florida Keys.

 

As one of the most unique spots on our list, the Florida Keys leave little to be desired. Scenic Beauty? Check. Outdoor activities that bring you face to face with ocean wildlife? Check. The places for you to stay here range from cozy bed & breakfast to luxury suite. Finally, both you and IG will love the photos you'll get while traveling across the Overseas Highway that runs from Key Largo to Key West.
Sedona, Arizona to The Grand Canyon. The Grand Canyon is one of the most unique places in the entire U.S. What you may not know is that Sedona, Arizona is also a very special place to visit. Things to do in Sedona include hiking (you have to see the Devil's Bridge Trail), scenic tours, Tlaquepaque Arts & Crafts Village, and fly fishing.
Jacksonville to Miami (by way of Ft. Lauderdale). Florida makes our list once again with this North-to-South excursion. In addition to miles and miles of Atlantic coastline, you'll also have the opportunity for stops in Daytona Beach, Fort Lauderdale, and the always luxurious West Palm Beach. Of course your end destination, Miami, will give you the opportunity to indulge in delicious Latin food & South Beach sophistication.
San Francisco to Napa. This road trip option provides you with plenty of culture, sunshine, and wine. Need we say more? If forced to, we'd add that Oxbow Public Market (Napa) and Ghirardelli Square (S.F.) put this trip's potential over the top.
Austin to New Orleans. Did you know? Austin is one of the top 10 green cities in the U.S.—it also consistently ranks as a top spot for millennials looking to re-locate. Traveling from Austin to New Orleans will take you just under 10 hours via I-10 E. Points of interest along the way include Lake Charles, the sprawling metro of Houston, and the historic university town of Lafayette. Of course, as the main event of the trip, New Orleans itself needs little-to-no introduction.