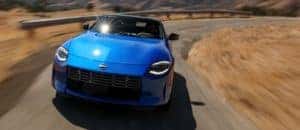 All 2023 Nissan Z models are equipped with a 400-horsepower 3.0-liter V6 twin turbo engine that gives a significant power boost over previous iterations and a choice of 6-speed manual transmission with the motorsports-inspired EXEDY® high-performance clutch, or a 9-speed automatic transmission with aluminum paddle shifters. The resulting torque is a thrilling 350 ft. lb.
This engine and transmission pairing is designed to deliver a sharp, yet smooth response to the driver input, along with an estimated 15 percent improvement in 0 to 60 mph acceleration. Small-diameter turbochargers and a turbo speed sensor were adopted to ensure the capabilities of the turbos are fully utilized. The twin turbos balance power output and response time, while the use of an electronic variable valve timing (e-VVT) intake valve system adjusts the intake valve timing on-the-fly to achieve excellent response and fuel efficiency in a variety of driving scenarios.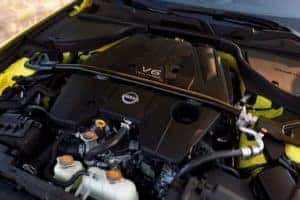 Performance models equipped with a manual transmission include an advanced launch assist control system that helps deliver smooth acceleration from a stopped position and a carbon fiber composite drive shaft with SynchroRev Match®. All automatic transmission-equipped models feature the launch control system. Two drive modes are offered on automatic transmission models, standard for long commutes and sport that unlocks the Z's performance potential, offering faster acceleration control, a sports-mode steering algorithm, active sound enhancement and sports-mode vehicle dynamic control setting best matched to take on a spirited run through a winding road. .
The chassis, cooling, suspension and steering are fine tuned by the engineers to ensure the driver always feels connected with the car. Enhanced body rigidity, an electronic power steering with rack assist and a strong mechanical feel, and wider front tires deliver predictable, responsive handling and maximum cornering.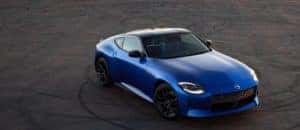 Both front and rear dampers use a new monotube shock absorber design with a larger diameter for a reduction in dampening force to help minimize impact shock over uneven surfaces, enhance road-following performance and improve handling stability. The front double-wishbone aluminum suspension features new geometry, including increased caster angle, improving straight line stability. A two-point front strut tower brace is standard. The rear independent multi-link aluminum suspension has also been reconfigured with new settings.
4-wheel ventilated disc brakes provide responsive braking with larger sport brakes with red-painted calipers coming standard on Performance grade models.